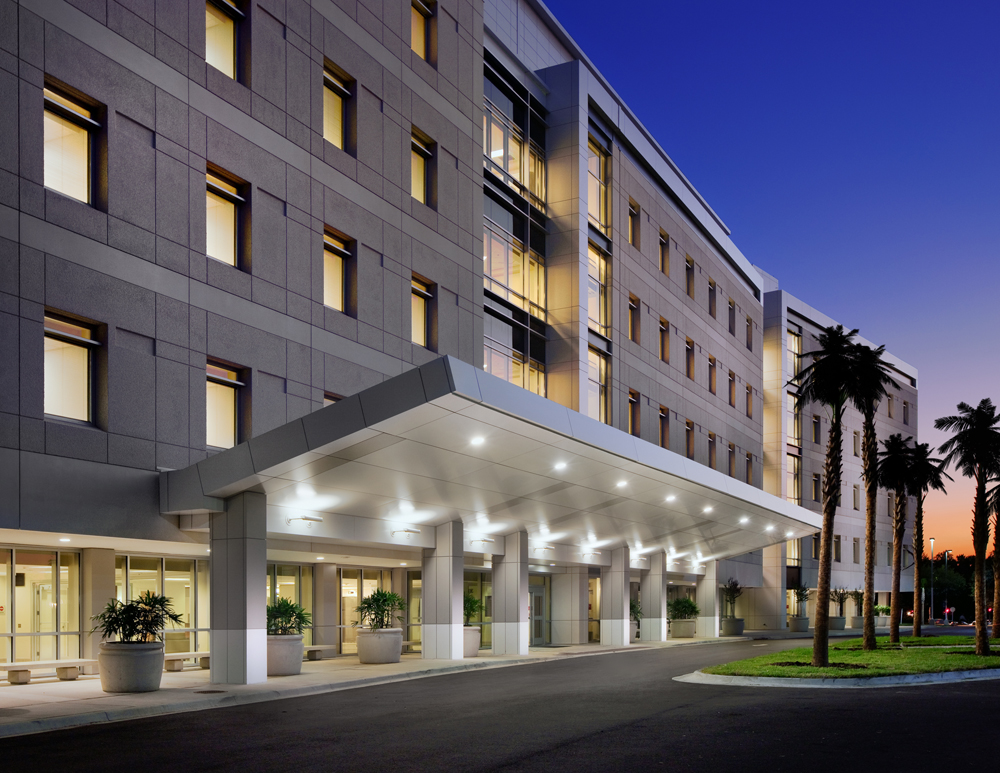 The VA Medical Center (VAMC) is located across the street from Shands Hospital. It is a 239 bed VA hospital that serves veterans throughout North Florida and South Georgia. It is the second largest VA system in the country. The VA patient population provides residents the opportunity to treat the "core" disease states in Internal Medicine. These include COPD, coronary artery disease, cancer, and more. More importantly, the VA patient population is very willing and grateful to have their care provided by residents in training.
---
The General Medicine Inpatient Teaching Services
At the VAMC, patients are cared for by medical housestaff under the supervision of Department of Medicine faculty that include Hospitalists. There are four general medicine teams at the VAMC: Blue, Green, Orange, and Red. One attending, one upper-level resident (PGY 2 or 3), two-three interns, and medical students are assigned to each of the medicine services. General Medicine Teams rotate call every four days:
Early Call – Middle Call – Late Call – Golden Day
Each team admits a total of five patients during the day – Early Call from 7 am to 1 pm, Middle Call from 1 pm to 4 pm, and Late Call from 4 pm to 7 pm. There is no Middle Call on Saturday, Sunday, and designated holidays. Each team's total cap at the VAMC is 20 patients.
Similar to Shands, if an admission team reaches their cap, there are Hospitalist Services that admit overflow patients.
The VA Night Team
The VA night team is staffed by one upper level resident (PGY 2 or 3) who is responsible for cross cover on all the medicine teaching services from 7 pm to 7 am. The night resident has each Friday night off and is covered by a resident who is not on an inpatient service. The night team is supervised by the overnight Hospitalist and performs two-three admissions per night.
The VA Medical Intensive Care Unit (MICU)
The VA MICU is an 18 bed unit that is staffed by four upper-level residents. There are no interns in the VA MICU. Each resident works an average of 3-4 contiguous nights throughout the entirety of the rotation, and the remainder of the time is spent on either short call (7 am to ~3 pm) or long call (7 am to 7 pm) days. There is no 24 hour call. The VA MICU houses a mix of pulmonary/critical care and cardiology (CCU) patients. Both a Pulmonary and a Cardiology attending staff the VA MICU. In addition, the VA Pulmonary and Cardiology fellows are available to help residents with patient care. The VA MICU provides senior residents with the skills and confidence to manage critically ill patients. It also affords them an excellent opportunity to hone their procedural skills.
VA Hospitalist
This is an elective rotation offered at the VA that is designed to emulate a true Hospitalist experience with a seven days on (including weekend days) and seven days off (with the exception of one continuity clinic day) model that is commonly seen in private practice. Two upper-level residents work on alternating "week-on, week-off" schedules. During this rotation, the residents will be the primary provider for his/her patients with an attending Hospitalist's oversight of the patient's care. The residents may care for up to ten patients and can admit up to three patients in any given day. This rotation is designed to provide upper-level residents an experience in learning self-sufficient, efficient, and cost-effective inpatient management.